Welcome to Starbase Typhon SB-347.
Starbase Typhon is a cooperative writing experience conducted by a crew of creative and talented individuals. We invite you to explore our work, our stories, and challenge you to join the experience. As the hub for Theta Fleet, all the fun and excitement starts here! Welcome to Typhon.
Typhon Docking Control is standing by for you to join us.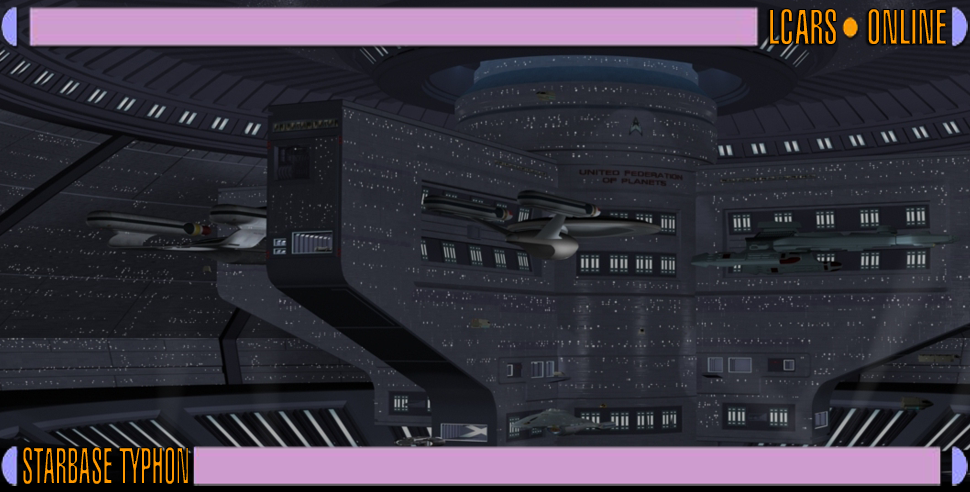 ========ATTENTION========
Starbase Typhon
does not
acknowledge or incorporate the events of the 2009 "
reboot
" film. We sim in the "classic" or "traditional" trek universe where Romulus is intact and the Romulan Star Empire is still a major force to be reckoned with in the Alpha and Beta quadrants.
========THANK YOU========
Starbase Typhon is a part of

---


Fleet Awards











---
Latest Mission Posts
Mission: Pirating Typhon resources
Posted on Fri Dec 29th, 2017 @ 1:27am by Captain Darius Cayne & Captain Landon Mabrade & Colonel Wilhelm Baron von Hackleberg & Commander Ashe Rii'Na & Commander Raven Adams & Lieutenant Aria Kanzaki & Lieutenant JG Terry Wu & Lieutenant JG Serena Giacomo & Khiy Tal'ehrihn
OLD

Khiy leaned back in his chair and tapped on the table. "The big question I have is really quite simple. It's the same question your average pirate asks himself about everything; 'how do I profit?' Their ships are taking damage and expending ordinance, those are big out of pocket…
Mission: Pirating Typhon resources
Posted on Fri Dec 29th, 2017 @ 1:21am by Captain Landon Mabrade & Captain Darius Cayne & Colonel Wilhelm Baron von Hackleberg & Commander Ashe Rii'Na & Commander Raven Adams & Lieutenant Aria Kanzaki & Lieutenant JG Terry Wu & Lieutenant JG Serena Giacomo & Khiy Tal'ehrihn
OLD

Raven was surprised by Darius' actions, and the strong negative emotions he was projecting. "You were asked to attend this meeting the same as the rest of us," she said quietly to Darius. "None of us knows why escorts are being attacked, or what the end goal might be.…
Mission: Pirating Typhon resources
Posted on Fri Dec 29th, 2017 @ 1:17am by Captain Landon Mabrade & Captain Darius Cayne & Commander Ashe Rii'Na & Commander Raven Adams & Lieutenant Aria Kanzaki & Lieutenant JG Terry Wu & Lieutenant JG Serena Giacomo & Khiy Tal'ehrihn
OLD

Raven thought back on when the Borg had attacked Typhon and how much damage was caused before they were defeated. They'd lost one quarter of the station's personnel during the infiltration. It was not something she wanted to repeat any time soon.

NEW

"I don't think TGT is being targeted exclusively,…
Mission: Pirating Typhon resources
Posted on Fri Dec 29th, 2017 @ 1:10am by Captain Landon Mabrade & Captain Darius Cayne & Colonel Wilhelm Baron von Hackleberg & Commander Ashe Rii'Na & Commander Raven Adams & Lieutenant Aria Kanzaki & Lieutenant JG Terry Wu & Lieutenant JG Serena Giacomo & Khiy Tal'ehrihn & N'alae t'K'manatran
OLD

Raven gave him a brief smile, glad that he was there.

NEW

Once he saw everyone in attendance Mabrade turned to them. He tried to acknowledge Billy Jo but not to focus upon her at the moment, though she was an attractive woman he had to keep his mind…
Mission: Pirating Typhon resources
Posted on Fri Dec 29th, 2017 @ 1:05am by Captain Landon Mabrade & Colonel Wilhelm Baron von Hackleberg & Commander Ashe Rii'Na & Commander Raven Adams & Lieutenant Aria Kanzaki & Lieutenant JG Terry Wu & Lieutenant JG Serena Giacomo & Khiy Tal'ehrihn & N'alae t'K'manatran
ON

The SS Madagascar plowed along at a fine clip of Warp Four; the supply run was going to make a minor stop at Typhon to top off the cargo manifest, a shipment of Mining Tools waited on the docks.

Captain Donovan had a cup of Java at the perfect…